A partnership celebrating different kinds of love!
Our zine and the Ace Attorney Writers zine Pillars of Love have joined together to collaborate on a magnet set!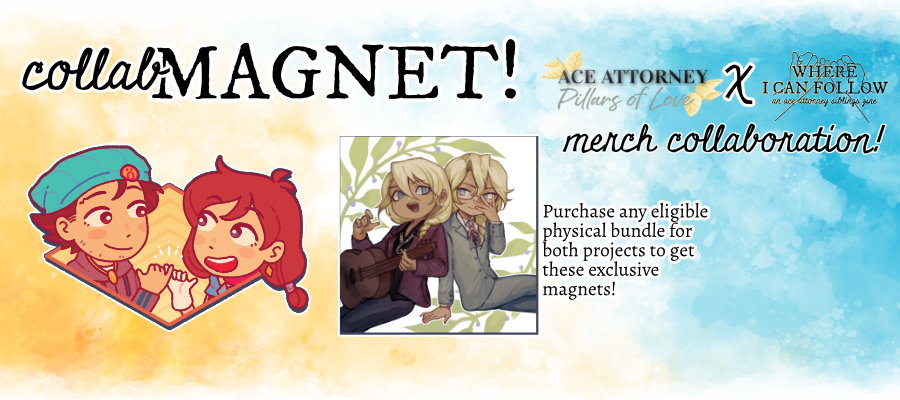 Pillars of Love is a writers zine focused around the four Greek words for love: eros (passionate, romantic love), philia (love for friends, friendship), storge (familial love), and agape (unconditional love, love of the world). With over 270 pages of fanfiction, across two books, and focusing on the whole variety of Ace Attorney characters and relationships, this celebration of love is absolutely not one you're going to want to miss! Pillars of Love is an incredible zine and we're so happy to collaborate with them.
Get both of these incredible pieces of merch, Klavier and Kristoph in a Greek themed magnet, and Trucy and Phoenix in a pinkie promise magnet, by doing the following:
Purchase any physical zine tier of Where I Can Follow (includes the 'Turnabout Sisters', 'Kleiner Bruder', 'Found Family', and 'Pinkie Promise' tiers)
Purchase any physical zine tier of Pillars of Love (includes 'The Original', 'The Classics', and 'The Duology' tiers)
Fill out this claim form with both order numbers
The magnet set will ship with Where I Can Follow.
*Note: Magnets cannot be bought separately, they can only be obtained as a pair by buying physical copies of both zines.
If you need to upgrade to a physical tier, please email us at: [email protected]